Writing
TEACH NURTURE CELEBRATE
Our Curriculum aims and design have been developed in line with the needs of St James CE Primary School community, promoting the Christian Values we hold dear. Our curriculum is ambitious and well-planned to ensure all pupils gain ample knowledge and skills to succeed in their next stage of education and life after primary school.
The aims are also based heavily on our school vision of Teach, Nurture and Celebrate in order that children should experience 'Life in all its fullness' (John 10:10). All stakeholders were involved in creating the vision and aims, including: pupils, parents, PTFA, and staff members at all levels.
SMSC is embedded throughout our curriculum design. The aspect of Spirituality is a particular focus for us
The St James Curriculum was chosen and adapted to develop the knowledge, understanding and skills needed to meet Key Stage requirements and allow for smooth transition to the next phase of education. We re-designed our curriculum to enable children to experience a more enquiry-based approach. This allows children to develop key skills and seek vital knowledge through exploring big questions and concepts.
Aims:
Within our curriculum, we aim to inspire all pupils through engaging learning experiences
We aim to nurture passionate, healthy and successful learners by providing a broad, balanced and enquiry-based curriculum
Instil children with the values, knowledge and skills to enable them to achieve beyond expectations and experience success
Provide a progressive curriculum where skills and knowledge are developed through quality ongoing assessment.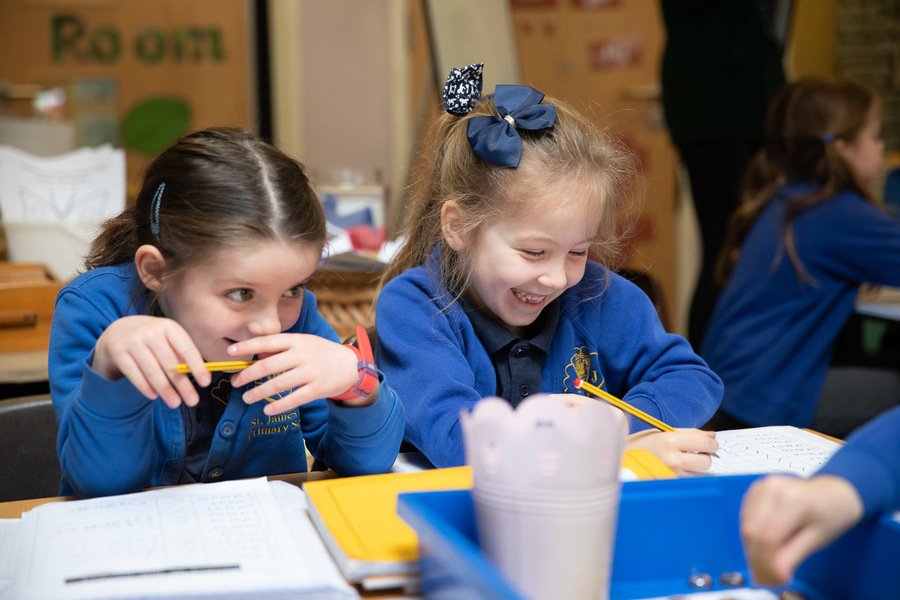 INTENT
Writing is a key skill for life both inside and outside of education. At St James CE Primary, we believe that all pupils should enjoy writing and be able to confidently communicate their knowledge, ideas and emotions. Our aim is to ensure that every child within our school, regardless of background and potential difficulty, leaves our school having achieved their full potential in writing. In order to ensure this, we have planned an engaging curriculum which leads to year-on-year progression in skills and knowledge.
IMPLEMENTATION
In order to help us develop confident, enthusiastic writers who can express themselves in a variety of different styles and across a range of contexts, our teaching of writing is linked to quality texts. We often use Writing For Real – an approach where regular opportunities are given to our pupils to write for a ranges of purposes and audiences both real and imaginary. This also includes experience days and drama activities.
In EYFS, we focus on mark making, speaking and listening, fine motor control and the foundations of Phonics teaching. Children experience a wide range of engaging activities and texts, which support all learning styles and abilities, and are encouraged to communicate through both speaking and writing. Continuous provision encourages them to practise these skills and become confident learners.
In KS1 and KS2, children receive a daily Literacy lesson and are exposed to age-related expectations for writing across a range of genres. Reading and Writing are closely linked and we use quality texts to stimulate teaching and learning and develop vocabulary and writing styles.
Oracy is at the heart of our writing lessons, through the use of discussion, questioning, imitating and learning of texts. In EYFS and KS1 Talk For Writing strategies are used.
A unit of work usually lasts for 3-4 weeks. Each unit develops pupils' knowledge and understanding of grammatical features, vocabulary and style, culminating in a final extended piece of independent writing which is then assessed. There are also regular opportunities throughout the unit for incidental writing.
Teachers demonstrate high quality modelling within each Writing lesson in order to support and develop pupil knowledge and skills. Model texts are scrutinised by pupils in order to determine the key features of each genre.
Pupils are taught to evaluate, edit and improve their own writing.
Children are encouraged to apply their Writing skills and knowledge in other curriculum areas through topic work.
In addition to this, a yearly Writing For Pleasure competition is held to raise the profile of Writing and increase engagement. Pupils are also encouraged to participate in local and national writing and film competitions.
Children's writing achievements are celebrated daily and in Celebration Worships.
Precursive handwriting is modelled and taught in EYFS and Year 1 using Super Sonic Phonics, leading into cursive script in Year 2 and beyond through the use of Letter Join. Handwriting is taught and practised regularly in each class depending on the needs of the children.
High quality Phonics teaching takes place in Year R and Year 1 through Super Sonic Phonics and continues for those who require it. In order to ensure progression, from Year 2, spelling is taught through No Nonsense Spelling. Our pupils are encouraged to learn high frequency words and participate in a Spelling Bee.
Children who need additional support receive a variety of interventions that are tailored to address their gaps.
IMPACT
Daily assessment identifies pupils who are failing to meet age related expectations. This leads to immediate intervention e.g. one-to-one, small group or next day guided group activities.
In depth assessment of Writing takes place at the end of each unit and teachers use St James Writing Assessment sheets to record age related expectations that have been achieved and highlight any gaps. This data is collated on Scholar Pack and informs next steps.
Children are tested termly on Spelling, Punctuation and Grammar knowledge using NFER tests. This data is also used to help inform next steps.
Monitoring of Writing is carried out by the Subject leader, Senior Leadership Team and independent Literacy Consultants. Monitoring will include; regular book looks, lesson observations, termly pupil progress meetings and learning walks.
Moderation takes place amongst staff and with other schools to ensure standardisation.
The findings of this monitoring will be used to inform next steps for children and the implementation of the teaching of writing across the school.